Founder & Principal Artypapers
In 2000 I earned a BA from a small liberal arts college majoring in computer science with a minor in art. I've been a web applications developer and product designer for over 15 years and have experience in object-oriented programming languages including C++ and Java.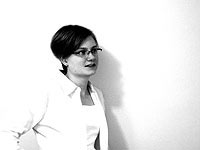 Recognition of my design work has appeared at Stylegala, CSS Beauty, Design Shack, Unmatched Style, Web Creme, and CSS Thesis. Side Job Track, the first standalone application built off of the artypapers framework, was listed as one of the Top 10 Innovative Web 2.0 Applications of 2005 as well as received a Web 2.0 Award from SEOmoz in addition to having been featured at Design Shack, Liquid Designs and Screenspire. You can view more of my work at the Artypapers Portfolio.
And this is just what I do in my spare time.
I'm testing the application framework here so that whenever I have my billion dollar idea, I'll have a solid foundation of extendable classes to build it on.
Marie
rmcox at artypapers.com